Lay the foundation for the day ahead, with your most important meal.
Weekday or weekend, these quick, easy and healthy Wild Smoked Salmon breakfasts will put a spring in everyone's step. The few minutes it takes to prepare them is well worth it, and some have ingredients that can be prepared the night before, making them ready-to- go in the morning.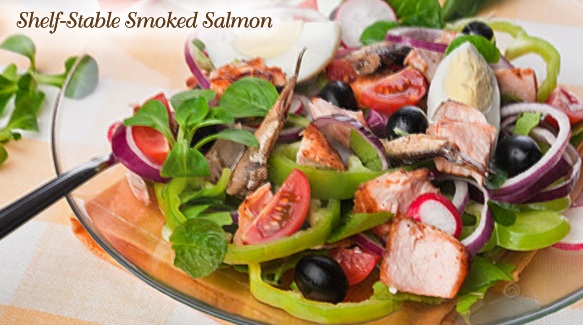 Sweet & Tasty.
- Nick P. / Mykonos, Greece
(Sweet Double Smoked Sockeye Strips, Frozen)
Your fish was excellante! We really enjoyed it. It was Very tasty and very fresh.
- Steve B. / Atlanta, United States
(Indian Candy Frozen Salmon)
Temptations
Please enjoy these other fine gourmet selections...
Sliced Cold Smoked Sockeye Salmon
Did You Know?
Our Wild Salmon are caught primarily by Gill-netting. Gill-net caught wild salmon are know for their quality and freshness, since the catch takes place near fishing ports and is delivered quickly to local fish plants.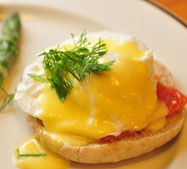 Salmon Eggs Benedict
Eggs Benedict with a twist! A delicate yogurt and lemon sauce perfectly compliments with savory Wild Smoked Salmon. A perfect way to start your morning!
Serves: 4
Ready In: 1 Hour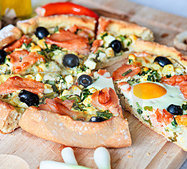 Breakfast Pizette
Brunch happens all too rarely. Our Breakfast Pizza is reminiscent of bagels and lox, only a bit fancier and prettier. These toppings are fresh, light and incredibly flavourful!
Serves: 6
Ready In: 30 Minutes
Salmon Chard Quiche
This is a quiche that looks and tastes great. Red Swiss chard makes the quiche very attractive. And for a twist, use half the and twice the chard.
Serves: 8
Ready In: 1 Hour and
20 Minutes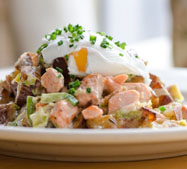 Salmon Hash
Hash makes a fast brunch or even a light supper dish. This twist with , onions and plenty of potatoes is seasoned with fresh dill and Dijon mustard.
Serves: 4
Ready In: 25 Minutes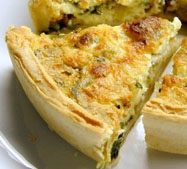 Salmon Quiche
and Cheddar cheese are baked together in this simple, yet sophisticated egg pie. Have friends bring a citrus salad, and you have a light breakfast party.
Serves: 8
Ready In: 50 Minutes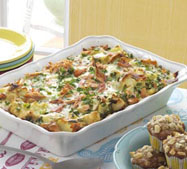 Salmon Strata with L'Évanjules
Wild Smoked Salmon is layered with cheese and croissants, topped with an egg, sour cream, capper and dill mixture before baking to a bubbly brown perfection!
Serves: 12
Ready In: 1 Hour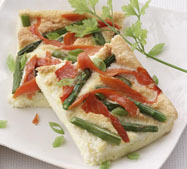 Pacific Northwest Frittata
A delicious Pacific Northwest recipe made with Wild Smoked Salmon and real cream, creating light, fluffy eggs. Paired with tender-crisp asparagus, you're sure to delight your guests.
Serves: 6
Ready In: 45 Minutes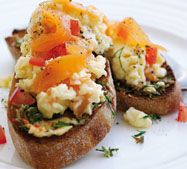 Salmon Scramble
Try an elegant European twist on this classic breakfast dish, Scramble. You'll find this a quick and easy recipe that you'll want to treat yourself to any time of year.
Serves: 1
Ready In: 8 Minutes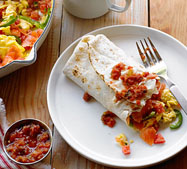 Salmon Breakfast Burrito
The cream cheese and in these wraps make for a decadent Breakfast Burritos. Kick it up a notch with jalapeno peppers!
Serves: 4
Ready In: 20 Minutes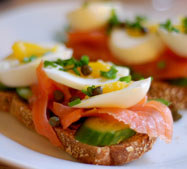 Breakfast Sandwich
A simple breakfast for lazy Sundays when you don't feel like cooking. on your Breakfast Sandwich, an elegant flair to start the day.
Serves: 1
Ready In: 13 Minutes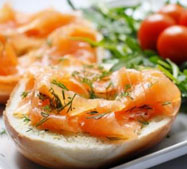 Salmon Bagel
Starting with , our Salmon Bagel is layered with tasty ingredients – flavoured cream cheese, capers and purple onion. A quick fix for brown-bag breakfast.
Serves: 3
Ready In: 7 Minutes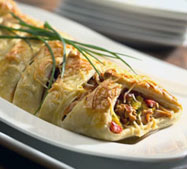 Salmon Strudel
Company coming? Try this elegant Strudel that's as easy to make as it is good. In fact, it's so tasty you'll want to make it for the family too.
Serves: 8
Ready In: 45 Minutes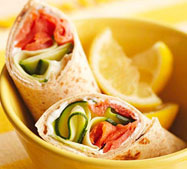 Salmon Breakfast Wrap
Our lives are busy. This take on and cream cheese uses whole wheat tortillas instead of traditional bagels for breakfast on the run.
Serves: 4
Ready In: 10 Minutes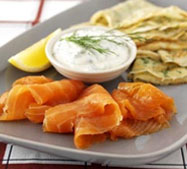 Salmon Crepes
A creamy filling with
Serves: 5
Ready In: 20 Minutes